Yaroslav Popovich: I feel depressed, when Giro is passing by

We haven't heard anything about Yaroslav for a long time, only short notes from personal chats. We have decided to contact him to find out about team's plans for Tour of California, which starts today, about his future, about his health has suffered after the fall in La Fleche – Wallonne, and many other things… specially for VeloLIVE.com
VeloLIVE: Where did you injure your knee? Is it the same injure you got at La Fleche - Wallonne?
Yaroslav Popovych: This photo was taken during Liege-Bastogne-Liege, but the knee is still swollen, so I'm waiting when it gets OK. Doctors made everything that should be done; now my body should do its bit. I should try applying leech. (Laughing)

V.L.: In April the media talked a lot about yours with Lance preparation for Ronde van Vlaanderen. Did you have any particular aims for this race or just were preparing for long climbs?
Y.P.: Lance was training, was preparing for something, and wanted to check the legs. He was training, we was riding the races. ;)

V.L.: There were few moment on Roubaix, when you were working in the head of the group and Vaitkus was attacking exactly on the parts which will be on Tour de France – were you looking closely or just were working for an escape?
Y.P.: No, no. There weren't anything like this; you got too dip into analysis. To be honest, I have no idea which parts of pave will be on Tour de France, we are going to check them right before the race. Therefore we rode Roubaix as a normal race, weren't checking anything. I rode it to finish it, try it, but Vaitikus (Vaitkus) crazily attacked, when understood, that won't get any luck in the race. We haven't talk in the team about Tour de France yet, haven't any aims yet, so, are not bothered about it. I told you before, that I work for such team, where every rider treated in a careful manner, in orders that rider won't get overstrained, stressed, that would be ready to work in normal atmosphere. Therefore, we are training, riding the races and getting ready for Tour de France.

V.L.: Therefore you are not riding Giro in order to not get overstrained?
Y.P.: Of course not! There are few reasons why we are not riding Giro. First of all gossips about us not riding Giro started last year. Then after the Tour were talks that Bruyneel doesn't want to participate in it. Giro is very hard race, not only for riders, but for all staff – masseurs, mechanics. It's extremely difficult to participate in 3 Grand Tours not only physically but morally as well. It's extremely-extremely difficult with continuous transfers from hotel to hotel; three days of the race, then rest day and then thirteen day of hard work on high speed, on a border of endurance – too hard. Second of all and dominant reason is a quarrel about finance between Lance and Zomenian, it seems. Well, can't tell for sure. Therefore, Bruy put it into black list for 2010. The best race from a point of comfort is Vuelta. Where you arrived very first day, where checked in, there you will be before the end of the race. So comfortable.

V.L.: The Tour of California starts today. Is it kind a prestigious race or good preparation for Tour de France?
Y.P.: No, it's World Championship for us. American sponsor, Leipheimer won it three times in a row. We have great team for the race.

V.L.: This year Tour of California is held in a parallel to Giro de Italia and most of the stars are there. Who are the main favorites on California?
Y.P.: Tour of California stepped on a top level. Elite division brought the strong teams. Leipheimer is favorite number one for sure; Rodrigues is very strong as well. Columbia brought strong riders. We are going to work from the start to the finish of the race on Lenin (Leipheimer – remark). The race is going to be interesting.

V.L.: Why do you think organizers moved race from winter to May?
Y.P.: The only reason is weather. Last few years the weather made race intolerable. And peloton doesn't want to go here.
The other reasons is that it doesn't matter for organizers when to run the race in winter or now. May won tactically, not all riders go to Giro, and there aren't other races, there are few races for first division, but not any worth a look. I think that everybody won from this change: prestigious and good to ride for 8 days. Weather is great now: +25 – Africa, lambada ;)

V.L.: You haven't any success with classics in spring… injuries…illnesses…
Y.P.: Yeah, no success at all! Illness, injury. Thyroid gland didn't work, put on weight, weather is bad – a walking catastrophe! Brajkovic said that he already rode 40 races; I calculated mine, only 15 starts. So, my destiny is not to be a great rider.

V.L.: Or rather there aren't results from any riders of the team; do you feel pressure from sponsor, director?
Y.P.: No, there isn't any pressure. No one is doing well. Vaitikus falls, Stigmans falls as well, injured heavily, I don't feel well, and no one is riding well… bad team (laughing). It's good that Horner won the race. Because Bruyneel was telling to all: "Stop just to ride, start to give results".

V.L.: Haven't contracts in the team been revised after disqualification of Chinese rider? Did it have any effect on you?
Y.P.: Of course not. If I wasn't at Liege-Bastogne-Liege and La Fleche - Wallonne, I wouldn't know it. He got caught on something strange, Bruyneel came to talk to him, he (the rider) explained the picture about the case and that's it, after Liege-Bastogne-Liege no one is remembered about him. The guy was crossed up by his coach. There are 2 versions: one is that his coach is kind of old USSR-type, something like: take this, eat, train and hasn't told to guy anything. That's all. The second one is that in China, like was one time before in Europe, cows were feed some drugs, some unknown pharmacology, to get more meat. There was a big scandal in Belgium, and after it has been stopped, because laws are strict in Europe, but in China, I heart, they continue the same way.

V.L.: What do you think about "white roads" in Giro? What do you expect from paves in Tour?
Y.P.: It was exciting to watch.

V.L.: What is your opinion about this type of the roads in Grand Tours?
Y.P.: Strange, unusual and 100% would be risky, not to mention that would be very hard. So, we will see what we get from it. It is spectacular action for people, but for us is complete "Achtung". We work for you, you for us, so good for both.
V.L.: You were on Giro's time trial and were invited guest in commentary studio of Rai Sport channel.
Y.P.: They make 1.5 hours previews before each start. They saw me and invited. There was Bettini, were discussing about the race. When they invited me second time, the race was already going, they asked questions about a mood before start, especially because we won there during the Tour, asked about tactic and etc.

V.L.: Don't you regret that race is passing by?
Y.P.: I regret about everything that related to Giro without me. I always tell you that Giro is my favorite race. Everything related to it is interesting to me. If there is live coverage at 4 a.m., I would wake up at 4 a.m., watch it, get power and beat everyone in California :-D. If to be serious, I start shaking before the start of Giro, when I ride it, but when I'm not, I feel bad. Nostalgia. Everyone sees this state. Mood is bad and I want to compete in Giro, it's like a magnet. If to compere two Grand Tours, you arrive to Giro like on festival, but on Tour like on work.

V.L.: Is there any news about Shack after Lance quit racing?
Y.P.: Well, we have 2 years contracts. Lance is going to quit after the Tour. No one is talking about this, but 2+2=4. And we are riding for a team in 2011.

V.L.: You are following Giro. When we were chatting during last stage, you stake on Vino or Garzelli. What is your opinion about how the next stages are going to go? Have your spread of winners changed?
Y.P.: I still feel effect of time difference. Therefore I wake up easily at 6 a.m. and watch the race. I got nuts from what I watch, really shocking. The weather in Europe is terrible. It's coldest spring in Italy for last 30 years. It's raining for 2 weeks. Lance said during a breakfast "It's cool to watch race like this on TV!". Yeah, I make some corrections for my spread – Evans (who wasn't until yesterday's finish – remark), Vino, Basso, Garzo, Karpets. Well, next… who would be able to climb over mountains on the last week. But, maybe, some show would be played, I really don't know, let's watch it.

V.L.: Is the team going to compete in Vuelta? If yes, who is going to be captain? Are you going to compete in it?
Y.P.: We don't know yet. I'm not going to ride it, even if the team gets invitation. Yet who knows, I would check after the Tour, how I feel myself.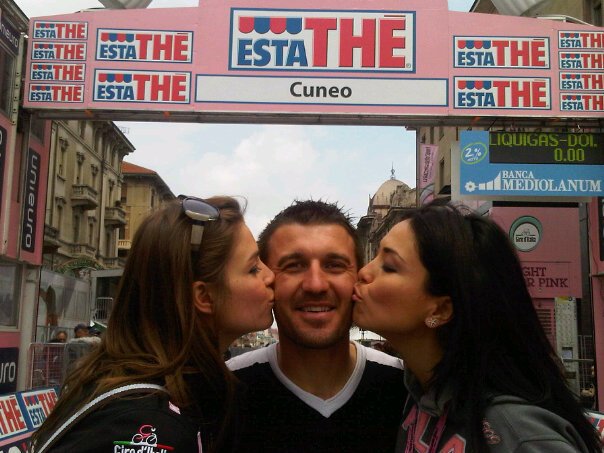 Interview: Yelena Garmashova, Translation: Alex Tur
Note from translator:
"Please do not shoot the pianist. He is doing his best" :-)



Copyright © VeloLIVE.com
Все права защищены
Поддержите нас, поделитесь публикацией с друзьями в социальных сетях. Спасибо!